Artocatos Taranicnos
Dannos: Labâdannos "Chat Officer"
Artocatos is a Gaulish Polytheist who is devoted to the tribes and Dêwoi (Gods) of the Transalpine region specifically the Swiss Alps. The Helvetii are his main passion and focus. Artocatos is part of the Toutâ Galation media committee, one of the founding members of Bessus Nouiogalation (BNG), blogger for his WordPress site Nemeton Eluêtion (Helvetian Nemeton), and co-host of the Gaulcast podcast.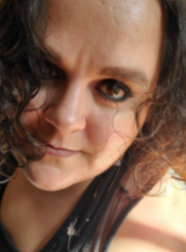 Branogarâ "Bee" Morimagi
Dannos: Labâdannos "Chat Officer" & Argantodannâ "Money Officer"
Bee has been a generic Celt Polytheist for 20 years, dedicated for most of that time to An Morrighan and Cernunnos. About five or so years ago they became dedicated to Cathubodua as well, and then this year they had the surprise of being called to worship Camulus as well. This call came with an unexpected finding of a home in Gaulish Polytheism. Something that is entirely new to them, and that they are learning about and growing with on a constant basis.
Diblâtus "Dibs" Bâssomedeticnos
Dannos: Uegâdannos "Web Admin"
Diblâtus is a Gaulish Polytheist and sorcier from Montreal, Quebec, where he is an active member of the LGBTQIA+ community. He is a recently graduated photographer and enjoys finding new ways of blending his creative and spiritual practices.
Nemoturcos "Nemo" Labâmâros
Dannos: Labâdannos "Chat Officer"
Nemo has had his toe dipped into General Celtic Polytheism for about 8 years, only recently settling in and finding his place within Gaulish Polytheism. He spends his time reading as much as he can about every Dêoui he can find, with a particular interest in Belgic Dêoui, stretching from modern Germany into modern England. He is also a founder of Sepânioi Rotî and looks forward to continuing to help grow the community as the wheel spins.